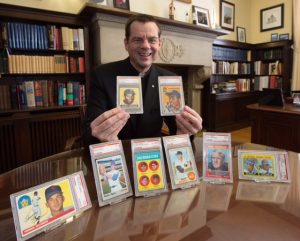 Photo Courtesy of Dave Hrbacek/ The Catholic Spirit
"Hitting it Out of the Park"
Baseball Card Auction to Benefit Aim Higher Scholarships
Thank you for joining us during the March 12-14 event: Baseball fans across the country bid to own a piece of baseball history, honor the legacy of trailblazing athletes, and support the Aim Higher Foundation—thanks to Fr. John Ubel!
GIVING IS STILL OPEN: Find the Fr. Ubel cards and give on our auction site.
More Scholarships. More Students. Stronger Schools.
Auction will help more children access a Catholic education.
Beginning at noon on March 12, 2021, Fr. Ubel auctioned off some of his favorite baseball and football cards in this one-of-a-kind fundraising event. Proceeds from the auction go to the scholarship programs of the Aim Higher Foundation, helping students from low-income and working-class families access the proven benefits of a Catholic school.
STEP UP TO THE PLATE
How you can help
GAME DAY PROGRAM
The Schedule of Events
PRE-GAME
Register and bid on the PWCC website or eBay.
BOTTOM OF THE 9th
The auction on the one-cause site will close.
The Jackie Robinson card on the PWCC/eBay auction will close.
The Hank Aaron card on the PWCC/eBay auction will close.
8:00pm CT
10:05pm CT
10:10pm CT