Our work at the Aim Higher Foundation is a valuable resource for the school, Archdiocesan, and philanthropic leaders who partner with us to make Catholic schools accessible to more children. That partnership has been fruitful as of late. Enrollment in K-8 Catholic schools in the Archdiocese of St. Paul and Minneapolis is up 8% over the last two years. More children from families with less economic means are being supported with Aim Higher Scholarships. Catholic Schools Week, which we celebrate this week, is truly a time of hope for Catholic schools in the Twin Cities area.
When we step back and look at the big picture, however, it is the children who we serve who are truly the ones impacted by what we, the Aim Higher Foundation and our partners, do.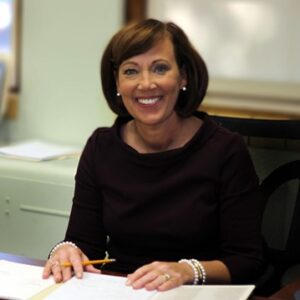 As our Vice President of Advancement and Operations, Ricky Austin, wrote in a recent editorial for the Catholic Spirit, "stability, a sense of connection, and clear communication were crucial in helping children weather the pandemic." Across this Archdiocese, Catholic schools provided these exact benefits. For our Aim Higher Scholars, stability was also created as a direct result of our policy to "follow the student" with our scholarships. That is, once a child receives a scholarship each year, they continue to receive that funding every year through 8th grade.
The numbers back this up. 93% of Aim Higher scholars returned to their Catholic schools this year compared to last year.
Because of Catholic schools, because of all those that support this mission these last two years, the children we serve and who are served by Catholic schools not only weathered the pandemic but in many cases, have thrived against the odds.
This Catholic Schools Week, we encourage you to help us share the good news. Please send this newsletter to your family and friends. Share Ricky's article. Share with us your own Catholic schools' experience. Or maybe, reach out to a former teacher to say thanks. The children in our community have greatly benefited from all Catholic schools have accomplished these last two years. Let's celebrate it.