The Aim Higher Foundation is pleased to announce the hiring of Laura Hester as Development and Programs Associate, effective January 13, 2020.
"We are thrilled Laura has decided to join the Aim Higher Foundation's mission to help more children access the many proven benefits of a Catholic education," said president Jean Houghton. "Laura brings to our team a wealth of experience working with donors, school and community leaders, and families. What really sets her apart, though, is her deep passion and commitment to promoting high-quality education opportunities for all students, particularly through Catholic schools."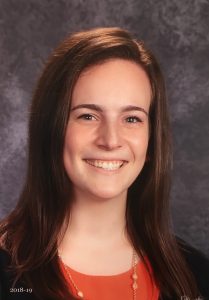 In the new role, Hester will assist in the management of the day to day operations of the Aim Higher Foundation's fundraising initiatives and help oversee development strategic planning. She will also provide administrative assistance to the foundation's scholarship programs. Over the last four years, the scholarship program has nearly doubled in both the number of students and the amount of funding. This year, the Aim Higher Foundation provided more than 1,300 students with tuition assistance to attend Catholic schools in the Archdiocese of Saint Paul and Minneapolis.
A product of Catholic K-12 education, Hester most recently served as Enrollment Specialist at Visitation School in Mendota Heights, MN where she oversaw the knowledge acquisition, application process, and onboarding experiences for all families and students entering the school community. She also led the school's admissions events and worked closely with school leadership to ensure a balanced operating budget based on overall school enrollment.
Prior to this role, Hester worked while completing her graduate degree at the Tennessee Department of Education and at Vanderbilt University's Department of Leadership, Policy, and Organizations. Earlier, she served as an Academic Enhancement Coordinator and Spanish Teacher at two Catholic schools. She is a Fellow of both the Minnesota Education Policy Fellowship Program, a partnership with the nationally-recognized Institute for Educational Leadership and the Minnesota-based Center for Policy Design, as well as the Reform Leaders' Summit at the University of Notre Dame.
Hester holds a Master of Public Policy from Vanderbilt University's Peabody College of Education, and an undergraduate degree from Saint Louis University with majors in Spanish and International Studies and minors in Legal Studies and Social Work. She lives in St. Paul, MN with her husband.
­­December 16, 2019