One mom returns to Catholic roots—and the Aim Higher Foundation—to help her child achieve success
Joanna Rosenthal had attended a Catholic school as a child, but she didn't fully realize the importance of a Catholic education until she started to consider a school—and a future—for her son, Mateo.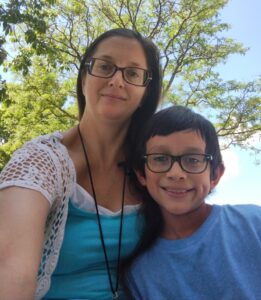 Mateo's father, Ivan, was from Mexico, and he had very clear hopes and dreams for his little boy. He wanted him to be smart. He wanted him to speak English. He wanted him to have opportunities. Unfortunately, Ivan was not able to watch his son achieve these dreams, as he was deported when Mateo was very young. After never returning home, Ivan was assumed dead.
Through the uncertainty of searching for Ivan, Joanna turned to family, faith, and the support of the community at Sacred Heart Catholic School in Robbinsdale to raise Mateo. She turned to what she knew and trusted as a child in her own education, and relied on her belief that a faith-filled, high expectations setting for Mateo would most benefit him and help him achieve his father's goals. She was right.
"I didn't realize how important it was for him to be at a Catholic school, until I was in a religious setting where adults were taking care of children," she says. "It's a good fit."
The small community at Sacred Heart has been a welcome spot for the family. Joanna has found support and the intimate class setting has given her freedom to work with the school and its students. "I'm a hands-on mother, so I like to be involved and volunteer," she says.  She also acknowledges that the size and individualized component of the school has benefitted her son, too. "Mateo is kind of a mild-mannered child, so it fits him well for his personality," she says. "The small family aspect allows him to remain childlike for as long as possible."
In the wake of losing his father, Mateo's success at Sacred Heart was partially made possible with the help of a scholarship through The Aim Higher Foundation. The cost of a Catholic education was an added stress to Joanna's life, so she's grateful for the support they received, a $1,000 scholarship each year of his K-8 education. "It would be hard for me to pay full tuition, so I'm really grateful," says Joanna. "It's money going to good use."
Mateo has become a leader in his school, both in the classroom and amongst his peers. He won an award through his school library, where he paired reading a specific number of books with accelerated reading tests. He also has a circle of friends who support him and celebrate his athletic nature. "His [Mateo's] father was good at sports, so he would be proud of Mateo for being a leader," says Joanna. "And his extended family on his dad's side can really see how smart and special he is."
—Emily Sefton on behalf of the Aim Higher Foundation