As part of a partnership with the University of Notre Dame, the Aim Higher Foundation is thrilled to welcome summer interns, Katherine O'Neal and Nicole Tonetti, from the Alliance for Catholic Education (ACE) Frassati Internship. "Katherine and Nicole have jumped in and are making an impact on a number of fronts," notes Ricky Austin, President of the Aim Higher Foundation. "The Frassati Internship is an important program at ACE that prepares students who may not otherwise consider a career serving Catholic schools and nonprofits with real-world experience. We are grateful to have them on the team even for a few short weeks this summer."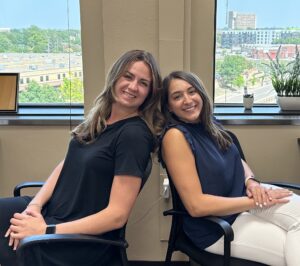 We asked Katherine and Nicole to share a bit about themselves and the work they are doing.
What are you currently studying at Notre Dame?

Katherine: Psychology with minors in digital marketing and business economics
Nicole: Business Analytics with minors in sociology and Italian
How has Catholic education shaped who you are?

Katherine: I have attended Catholic school since I was in Kindergarten, and it has been an extremely formative experience! I've had amazing opportunities and teachers, and I can honestly say that I wouldn't be who I am today without Catholic education.

Nicole: Notre Dame is my first experience with Catholic education, but I grew up within a Catholic family. A lot of the reasons why I ended up choosing Notre Dame I believe are connected with the Catholic faith, including the strength of the community and the motivation to do good in the world through service and research. 
What drew you to work with the Aim Higher Foundation?

Katherine: From my own experiences, I have a deep appreciation for the individualized, supportive, and loving educational environment Catholic schools offer to young people. I identified with the Aim Higher Foundation's mission of creating opportunities for students to attend Catholic schools, and I knew it was an organization that I would be proud to work for. 
Nicole: I loved the mission behind the company. After hearing about it in a brief introduction video, I knew I wanted to be a part of it because it seemed so positive and genuine. I have been so grateful for my academic opportunities and was so excited to have the chance to be a part of giving kids academic opportunities of their own. 
What work are you doing for Aim Higher this summer?

Katherine: I am the Marketing & Outreach Intern this summer. I've mostly been connecting with families and school leaders who work with Aim Higher to collect testimonies so we can better share what makes Aim Higher, Aim Higher: the people! I've also worked on the website and am coordinating with our social media manager to create marketing content. 
Nicole: I am working as a Data & Systems Intern. I am looking to gain insight into the status of Aim Higher Graduates to continue relationships and understand the impact of the foundation.
Do you have a sense for your next steps, post graduation?

Katherine: I am going into my senior year of college, so this is a very relevant topic. I am an Army ROTC cadet, and I am currently discerning between going Active Duty or Reserves after college. I am also applying for a year-long English teaching position in the Czech Republic and exploring some marketing jobs state-side.
Nicole: As of right now, I'm interested in working in consulting. I love working with and for others to solve problems in business. 
What is your favorite thing you've done in Minnesota so far?
Katherine: Nicole and I live together and have been able to explore the Twin Cities and surrounding areas quite a bit so far. My favorite two things at the moment are watching the sunset over Lake Nokomis after work and going to Twins baseball games.
Nicole: Katherine and I have been so pleasantly surprised with all the fun things to do around the Twin cities area! Some of my favorite things have been being able to try out delicious restaurants like the Nook and Freehouse as well as hiking at different state parks like Willow River State Park and Gooseberry Falls.
About the Aim Higher Foundation
The Aim Higher Foundation provides student-based, tuition-assistance scholarships so that more children in the twelve-county Twin Cities metro area can experience the life-changing benefits of a Catholic education. Since 2012, the foundation has awarded more than 14,000 scholarships – worth more than $12.8 million – to children to attend Catholic schools serving K-8 students in the Archdiocese of St. Paul and Minneapolis.