The Aim Higher Foundation is pleased to announce the hire of Christy Eberhardt as Operations Associate beginning March 6, 2023.
"We are excited to welcome Christy to the Aim Higher Foundation team," notes President Ricky Austin. "Christy brings a wealth of expertise in systems and operations management, including TADS financial aid applications, donor databases, reporting dashboards, website content management systems, email marketing platforms, social media, and student information systems. This mission-critical expertise, coupled with Christy's genuine love for the families we serve will be a great gift to the foundation, as we strive to serve more and more scholars every year."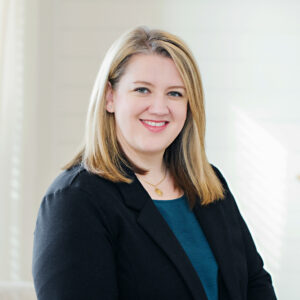 "I am excited to accept this new challenge and the opportunity to be a part of this incredible organization, Christy shares. "My husband, Josh, and I experienced the difference of a Catholic education with our own children, and I am thrilled and honored to help more families access its life-transforming benefits."
Christy comes to the Aim Higher Foundation from St. Croix Catholic School in Stillwater. Before then, she was with Blue Cross Blue Shield MN and Lifetouch National School Studios. Christy graduated from St. Cloud State University with a Bachelor of Arts in Mass Communications.
Outside of the office, Christy enjoys time at a family cabin in western Wisconsin, long adventurous road trips with family, gatherings with friends, and curling up with a good book. Christy and her husband, Josh, are the parents of five children, four currently at St. Croix Catholic School and one toddler. They live in Woodbury, MN and are members of St. Michael's Catholic parish community in Stillwater, MN.
Welcome, Christy, to the mission of the Aim Higher Foundation!
About the Aim Higher Foundation
The Aim Higher Foundation provides student-based, tuition-assistance scholarships so that more children in the twelve-county Twin Cities metro area can experience the life-changing benefits of a Catholic education. Since 2012, the foundation has awarded more than 14,000 scholarships – worth more than $12.8 million – to children to attend Catholic schools serving K-8 students in the Archdiocese of St. Paul and Minneapolis.