Director of Advancement, Donor Engagement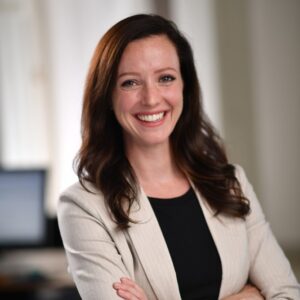 As Director of Advancement, Donor Engagement, Claire Buethe plays an integral role in advancing the Aim Higher Foundation mission by leading donor-focused fundraising initiatives. Prior to joining the Aim Higher Foundation, Claire acted as Dean of Students at Visitation in Mendota Heights, where she advised faculty, developed programming, and spearheaded various culture-building initiatives. She also taught and served at Saint Thomas Academy, Nativity of Our Lord Catholic School in St. Paul, and Frassati Catholic School in White Bear Lake.
In addition to her service to Catholic schools, Claire has led successful endeavors in real estate and has been recognized for her writing and research from the University of St. Thomas. Claire holds a Master's degree in English from the University of Saint Thomas and an undergraduate degree in English and secondary education from Saint Mary's College in Indiana.
Contact
2610 University Ave West #525
Saint Paul, MN 55114